Regular price
$79.95 USD
Sale price
$58.99 USD
Unit price
per
Sale
Sold out
View full details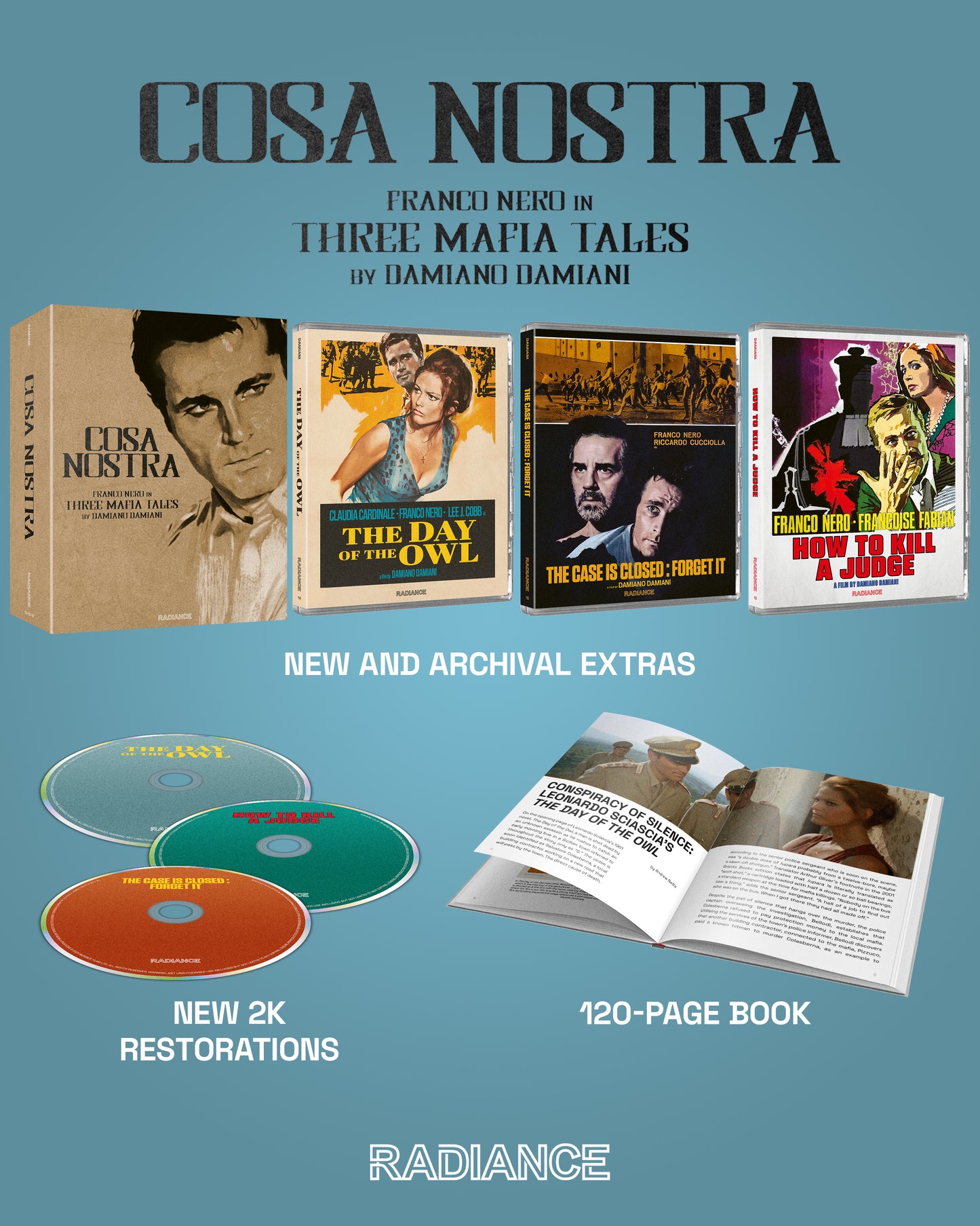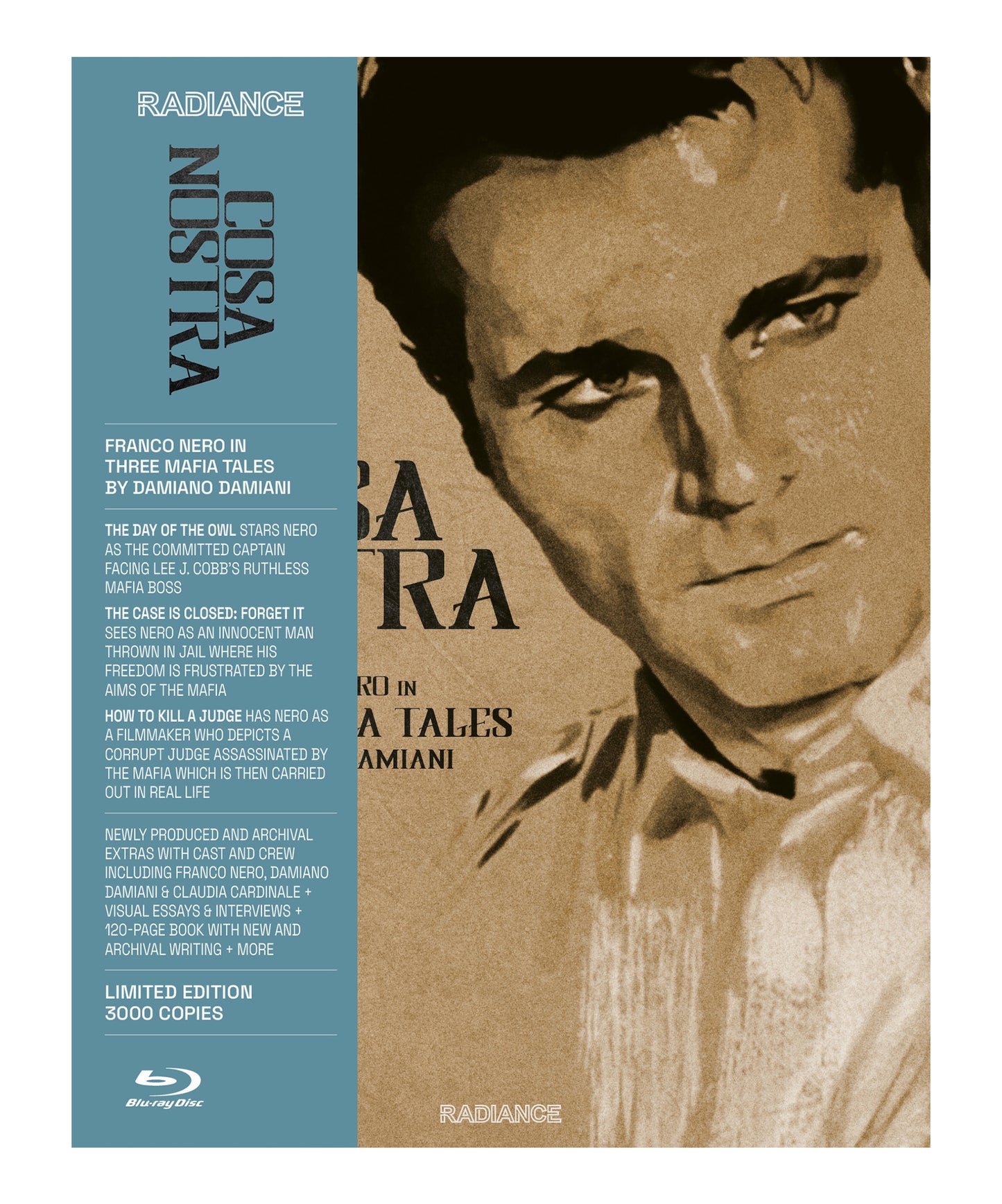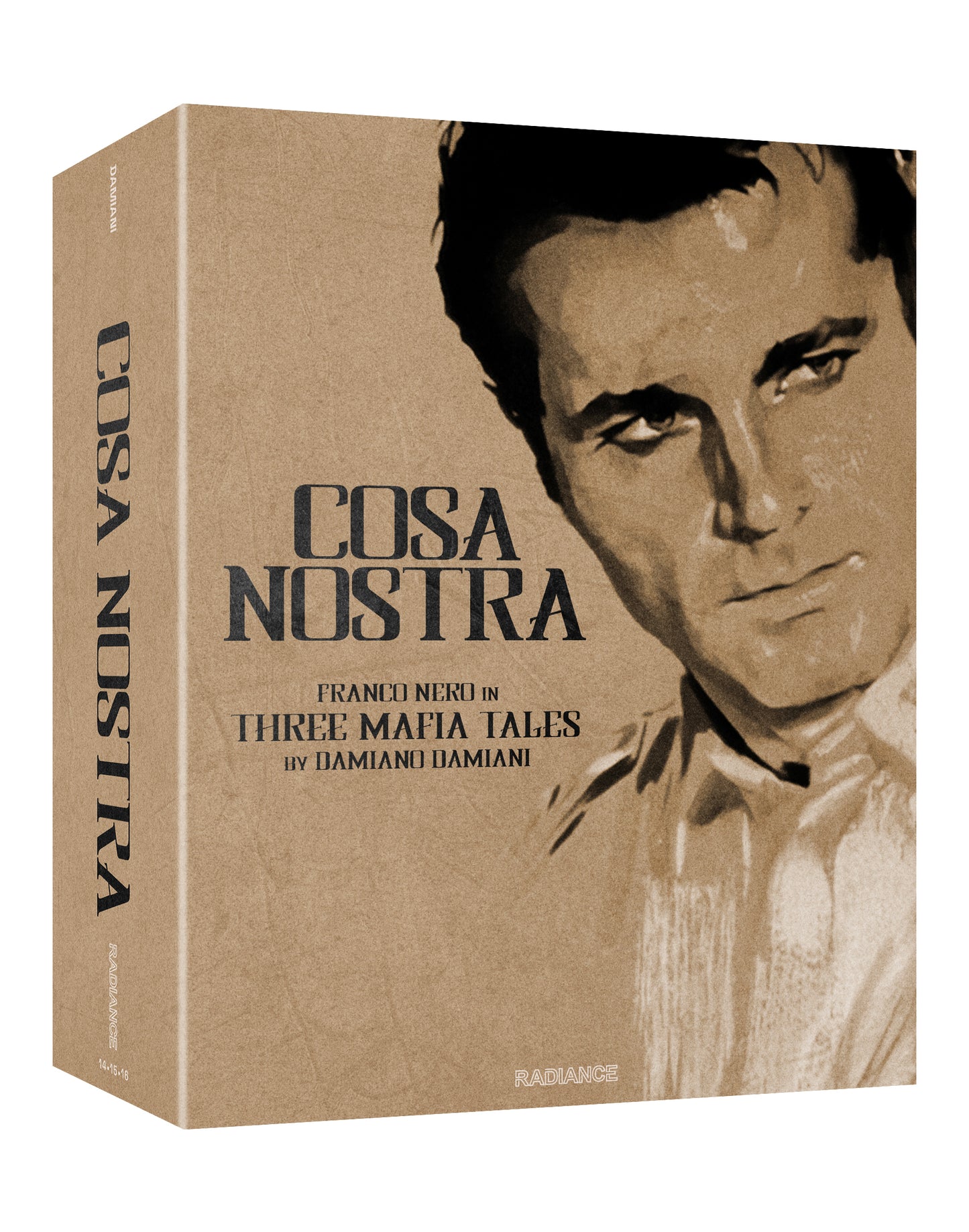 description
NOTE: THIS IS THE CORRECTED RELEASE OF THE PRODUCT.
Three classic Italian crime films are presented in this 3-Disc Collector's Blu-ray boxset, presented from new restorations.
The Day of the Owl stars Franco Nero as a police chief who, while investigating the death of a construction worker, goes up against corrupt officials and a ruthless mafia boss (Lee J. Cobb). Adapted from the celebrated novel by Leonardo Sciascia (Illustrious Corpses, Todo Modo), Day of the Owl was the book first to openly deal with organized crime in Sicily. A prestigious production, it was in the running for best film at the Berlin Film Festival and found wins at home in the David di Donatello Awards for Claudia Cardinale, Nero, Damiani, and Best Production.
Nero portrays a simple man thrown in jail for a misdemeanor in The Case is Closed: Forget It. Inside, he sees the grim reality of life behind bars, where the mafia controls everything. A powerful production with Nero in top form and supported by a strong cast including Riccardo Cucciolla (Rabid Dogs) and John Steiner (Tenebrae), the intensity of Damiani's film places it among the finest prison dramas. Presented in Italian and for the first time with the original English dub.
In How to Kill a Judge, Nero plays filmmaker Giacomo Solaris, whose latest film features a judge corrupted by the mafia and who is later found murdered. The real judge the character is based on seizes the footage, but is later killed in the same way. Feeling a degree of responsibility, Solaris investigates, but as the assassinations increase around him, will he reach the source of the conspiracy? Full of twists and a fascinating meta-commentary on cinema through the film-within-the-film, Damiani points the camera at himself and the genre as he investigates the social impact of mafia violence, a fitting end to this survey of Damiani's Cosa Nostra.
Three Blu-rays featuring new restoration from the original negative, each presented in English and Italian with new interviews with the cast and crew, including Franco Nero on each disc, extras with experts on the films and more!
Bonus Materials
2K HD restorations of all three films with original uncompressed mono PCM audio
New and archival extras for each film!
Trailers for all three films
Reversible sleeves for all three films featuring designs based on original posters
Optional English subtitles for Italian audio and English subtitles for the deaf and hard of hearing for English audio for all three films
DAY OF THE OWL: New interview with star Franco Nero
DAY OF THE OWL: Archival interview with Claudia Cardinale
DAY OF THE OWL: Identity Crime-Sis: filmmaker and Italian crime cinema expert Mike Malloy discusses The Day of the Owl in the context of the formation of the Italian crime film genre
DAY OF THE OWL: Filmmaker Howard Berger looks at the late Italian career of actor Lee J. Cobb
DAY OF THE OWL: Archival interview with Franco Nero, writer Ugo Pirro and production manager Lucio Trentini
THE CASE IS CLOSED, FORGET IT: New interview with star Franco Nero
THE CASE IS CLOSED, FORGET IT: Archival documentary on the making of the film featuring actor Corrado Solari, assistant director Enrique Bergier and editor Antonio Siciliano
THE CASE IS CLOSED, FORGET IT: Video essay on the career of Damiani Damiani by critic Rachael Nisbet
HOW TO KILL A JUDGE: New interview with star Franco Nero
HOW TO KILL A JUDGE: New interview with Alberto Pezzotta, author of Regia Damiano Damiani
HOW TO KILL A JUDGE: New video essay on the film by filmmaker David Cairns
Limited edition 80-page book featuring new writing on the film by experts on the genre including Andrew Nette, Paul A. J. Lewis, Nathaniel Thompson