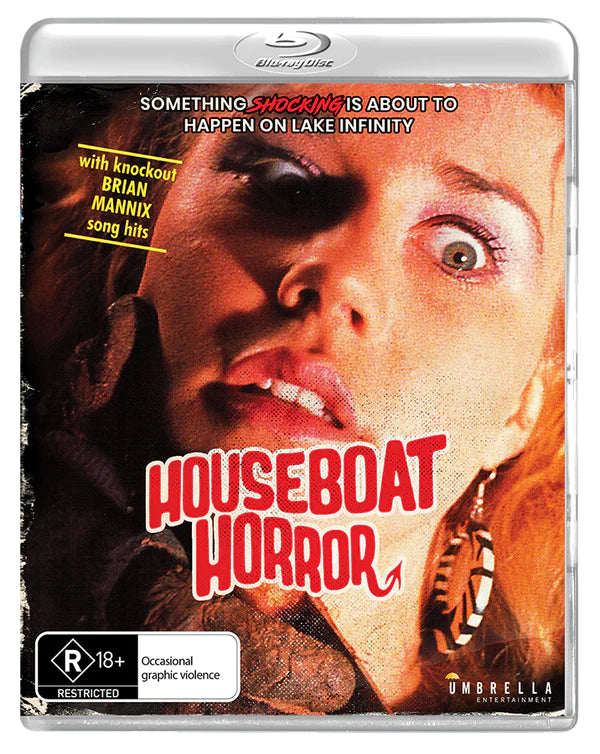 description
Before Tommy Wiseau entered THE ROOM and James Nguyen took flight with BIRDEMIC, Ollie Martin welcomed audiences aboard HOUSEBOAT HORROR. Shot on video, banned in Queensland and distributed with the world's first 'Gratuitous Violence & Blood Gush Guarantee', HOUSEBOAT HORROR is pure homegrown hilarity and quite possibly the most quotable film in (SOV) cinematic history!

Starring a veritable who's who of 80s Australian talent including Alan Dale (NEIGHBOURS), Christine Jeston (THE YOUNG DOCTORS), Gavin Wood (COUNTDOWN), Des 'Animal' Mckenna (HEY HEY, IT'S SATURDAY) and John Michael 'Hollywood' Howsen, HOUSEBOAT HORROR also features a slew of knockout song hits by THE UNCANNY X-MEN's Brian Mannix!
When a music video shoot on the seemingly tranquil Lake Infinity turns into smorgasboard of horror, death and blood-gushing mayhem, it can only mean one thing... ACID HEAD, a horribly scarred axe-weilding maniac with a grudge against interlopers, is loose! 
Director: Kendal Flanagan, Ollie Martin
Cast: Alan Dale; Christine Jeston; Craig Alexander; Des McKenna; Gavin Wood
Extras:
Audio Commentary with comedian Tony Martin and film historian Jarret Gahan
30th Anniversary Monster Fest Q&A with Clayton Jacobson (editor), Brian Mannix (score), Don Bridges (cast), Stephen Whittaker (cast), Craig Alexander (cast), Christopher Young (cast), Warren Master (production) & Boyd Martin
You'll Bar Up - interview with Gavin Wood (cast)
A Hell Of A Lot Of Grunting - interview with Zlatko Kasumovic (cast))
You Should Be Getting Some Of This On Film - interview with Craig Alexander (cast)
You Don't Have To Hate The Film People Forever - interview with Louise Siversen (cast)
They Were Film People - interview with Don Bridges (cast)
52 Pick Up - interview with Clayton Jacobson (editor)
A Fatal Vision - interview with Michael Helms (critic)
The Late Show 'Undiscovered Masterpieces of the Cinema' sketch
Trailer
And More
Audio format:
2.0 DTS-HD MA
Region Coding: Region A/B/C
This is a region free Australian import.