Regular price
$99.95 USD
Sale price
$69.99 USD
Unit price
per
Sale
Sold out
View full details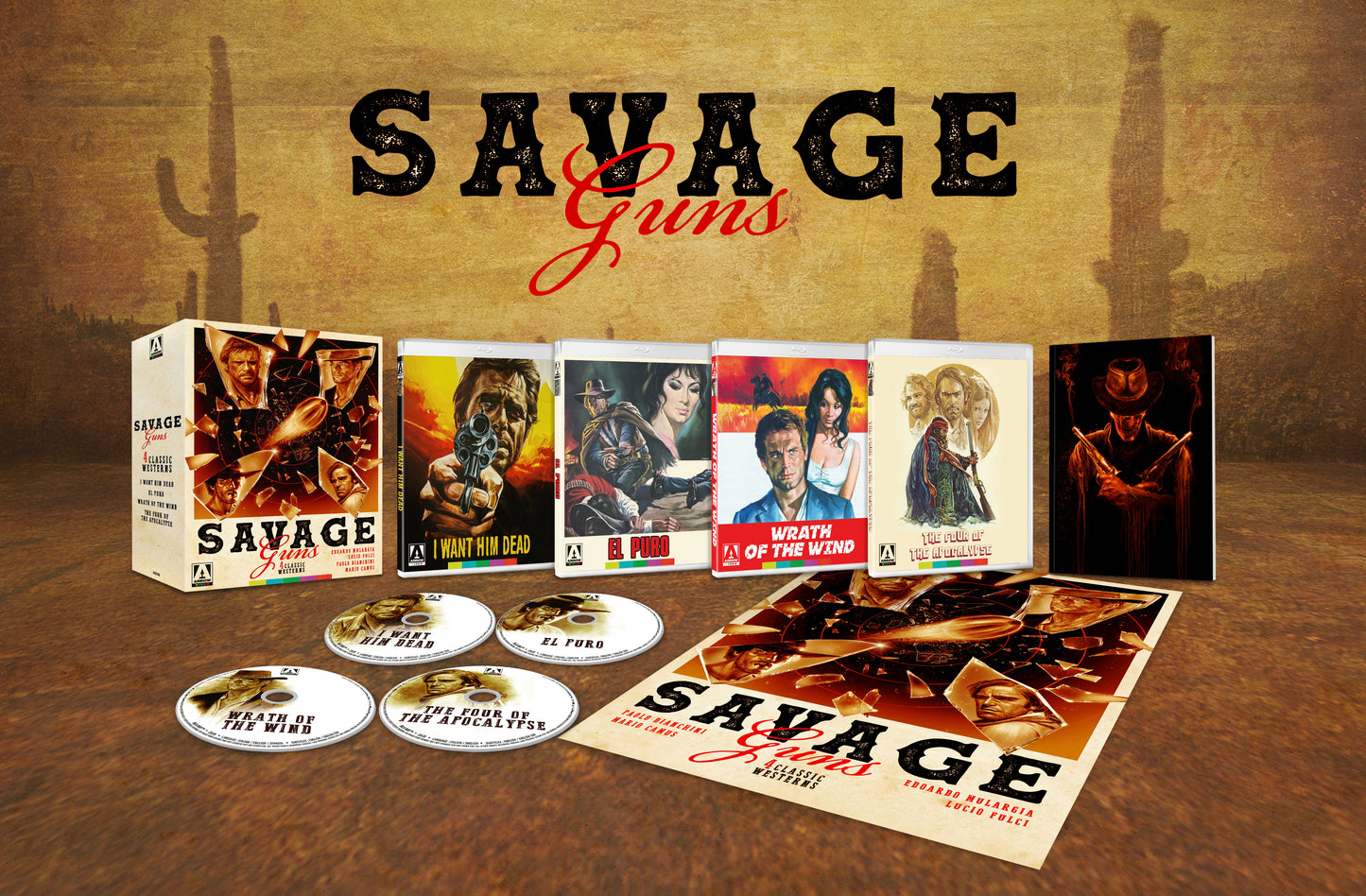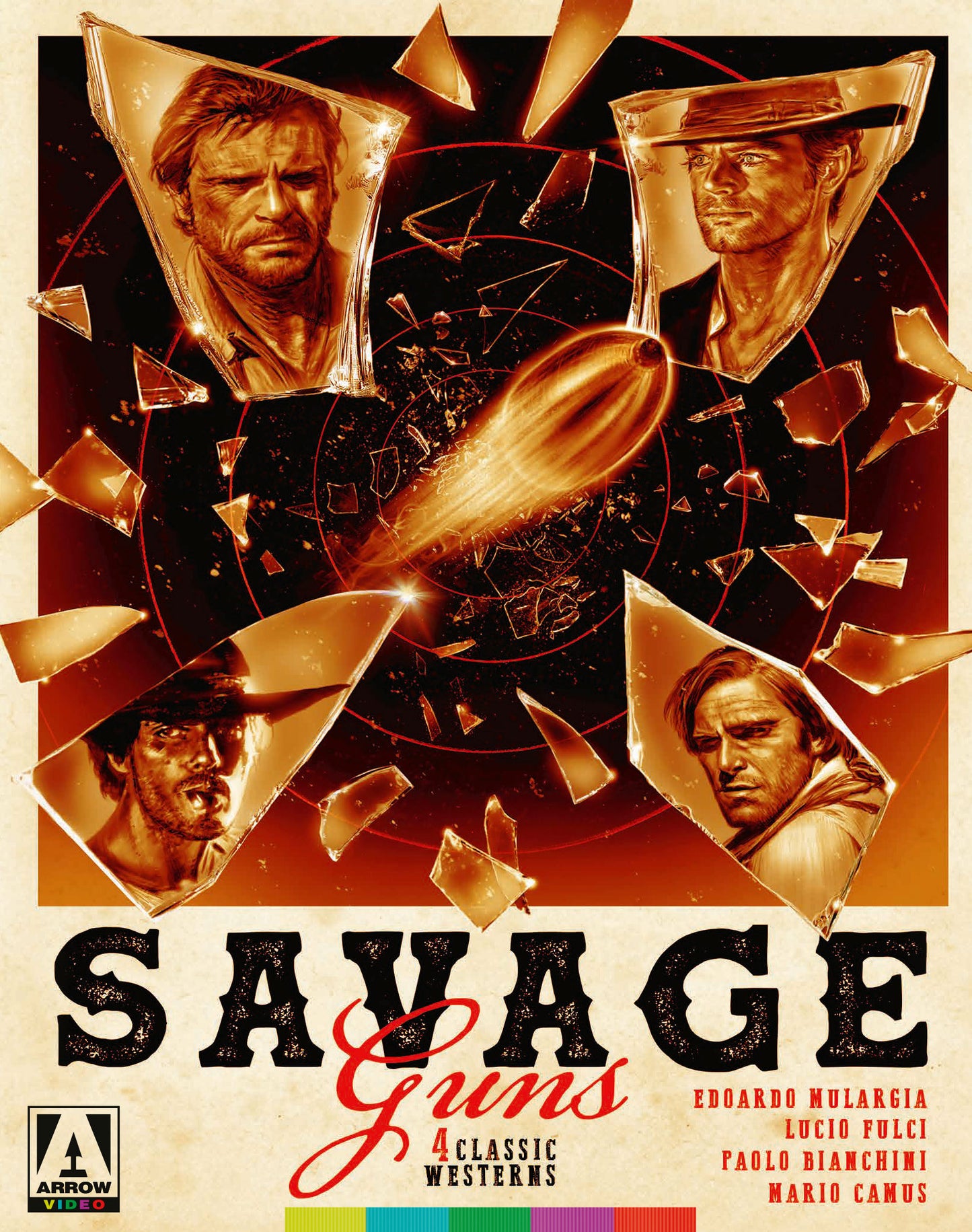 description
Maniacal outlaws thirsting for blood! Corrupt capitalists profiting from the suffering of the common folk! Desperate people pushed to violent revenge! The Italian western has never been grittier than in this quartet of later-period cult classics, in which the trademark cynicism of the genre escalates into the radical pessimism of the late 1960s / early 1970s world. In Paolo Bianchini's I Want Him Dead, American actor Craig Hill stars as an ex-Confederate soldier who vows revenge after his sister is raped and murdered, in so doing setting him on a collision course with a dastardly plot to disrupt peace talks between the North and South. Next, in Edoardo Mulargia's El Puro, western icon Robert Woods gives arguably his greatest performance as a legendary gunfighter forced to emerge from hiding after the bounty hunters on his tail murder the tender-hearted barmaid who offered him a new life. Then, in Mario Camus' Wrath of the Wind, genre superstar Terence Hill shows his darker side as an assassin who finds his conscience when he and his brother are hired by a ruthless landholder to kill the leaders of a growing labor movement. Finally, Fabio Testi and Tomas Milian star in Lucio Fulci's Four of the Apocalypse, in which a quartet of misfits go from sharing the same jail cell to embarking on a savage odyssey that will lead to torture, rape and cannibalism. Preyed upon by a ruthless bandit, the foursome fight for their lives - until the time comes for revenge. Four of the Italian western's hardest, cruelest, bloodiest classics erupt from the screen in this feature-packed box set from Arrow Films. Featuring dazzling High-Definition restorations and a wealth of brand-new bonus materials produced specially for this release, Savage Guns delivers - from both barrels!

Bonus Materials
4-DISC LIMITED EDITION CONTENTS
High-Definition Blu-ray (1080p) presentations of all four films
2K restorations of all four films from the original 35mm camera negatives, with El Puro newly restored by Arrow Films for this release
Italian and English front and end titles on all four films
Restored original lossless mono Italian and English soundtracks on all four films
English subtitles for the Italian soundtracks
Optional English subtitles for the deaf and hard of hearing for the English soundtracks
Brand new introductions to each film by journalist and critic Fabio Melelli
Illustrated collector's booklet featuring new writing on the films by author and critic Howard Hughes
Fold-out double-sided poster featuring newly commissioned artwork by Gilles Vranckx
Limited edition packaging with reversible sleeves featuring original artwork and a slipcover featuring newly commissioned artwork by Gilles Vranckx
DISC 1 – I WANT HIM DEAD
Brand new audio commentary by critics Adrian J. Smith and David Flint
The Man Who Hated Violence – brand new interview with director Paolo Bianchini
Cut and Shot – brand new interview with editor Eugenio Alabiso
Nico Unchained – archival interview with composer Nico Fidenco
English theatrical trailer
Image gallery
DISC 2 – EL PURO
Two versions of the film: the 98-minute cut, presented in Italian and English, and the longer, 108-minute version, presented in both Italian and a newly created hybrid English/Italian mix*
Brand new audio commentary by critics Troy Howarth and Nathaniel Thompson
Brand new interview with actor Robert Woods
Brand new, in-depth appreciation of the soundtrack and its composer, Alessandro Alessandroni, by musician and disc collector Lovely Jon
DISC 3 – WRATH OF THE WIND
Alternate, 106-minute Spanish-language version of the film, featuring additional and extended scenes not found in the Italian or English versions
Brand new audio commentary by author and critic Howard Hughes
The Days of Wrath – brand new interview with camera operator Roberto D'Ettorre Piazzoli
They Call It... Red Cemetery! – a short film from 2022 by filmmaker Francisco Lacerda, serving as a love letter to the spaghetti western genre
Alternate "Revenge of Trinity" opening titles, newly restored for this release
Image gallery
DISC 4 – FOUR OF THE APOCALYPSE
Brand new audio commentary by author and producer Kat Ellinger
It Takes Four – previously unreleased interview with production manager Roberto Sbarigia
Brand new, in-depth appreciation of the film by author, critic and Lucio Fulci scholar Stephen Thrower
Brand new, in-depth appreciation of the soundtrack and its composers, Franco Bixio, Fabio Frizzi and Vince Tempera, by musician and disc collector Lovely Jon
Newly restored theatrical trailer
Image gallery
* For some scenes and dialogue lines in the long version, the Italian audio is either lost or was never produced. These are presented in Spanish with English subtitles.