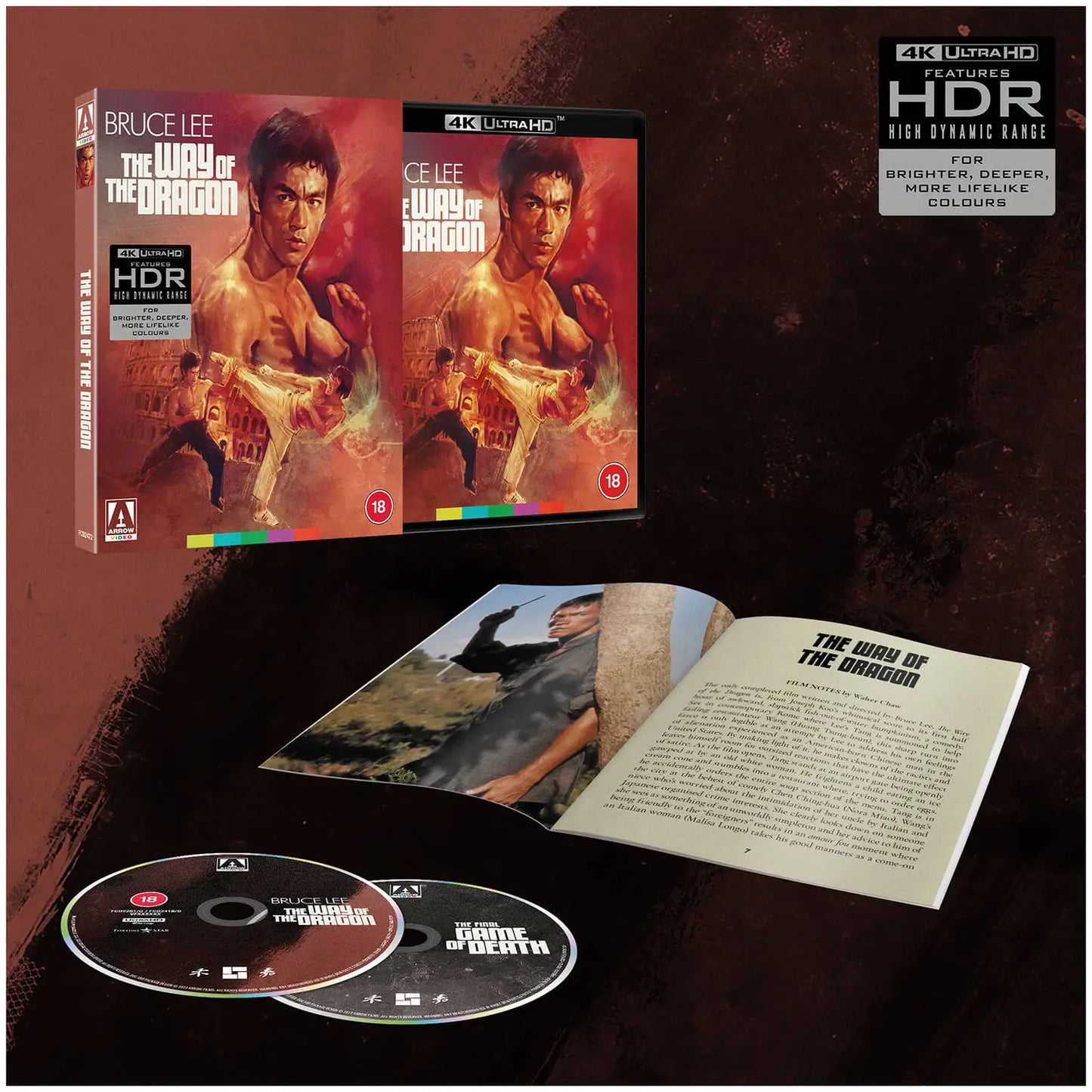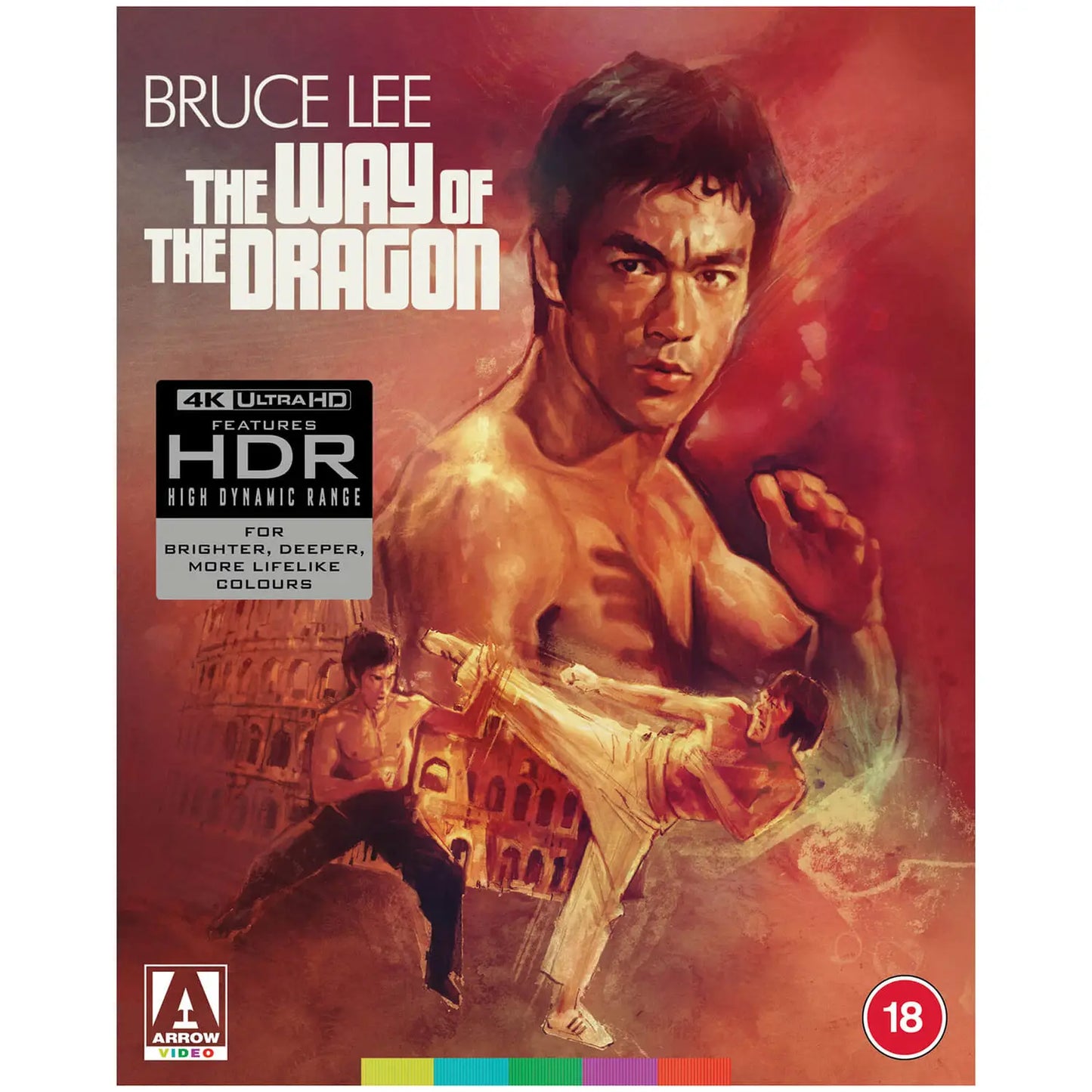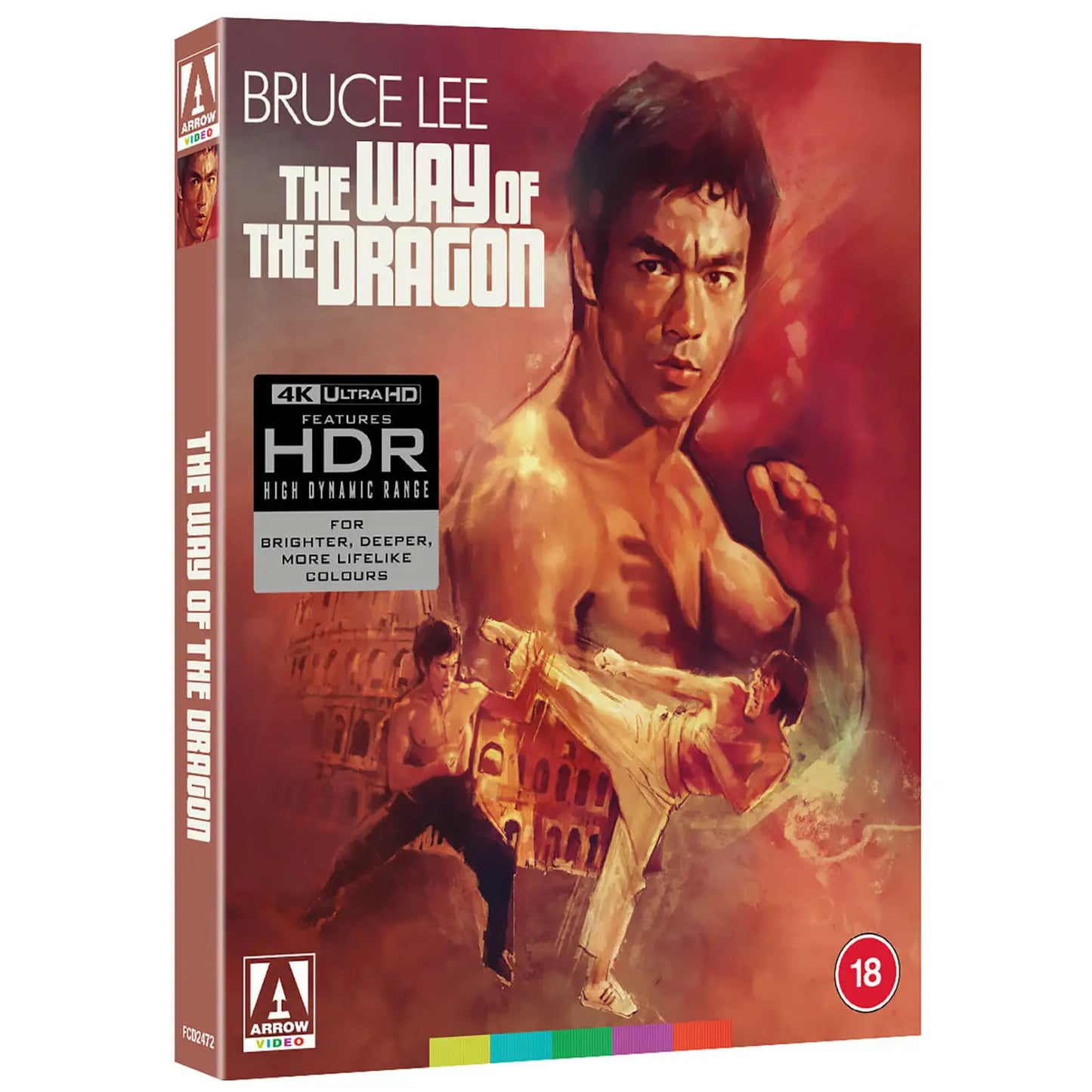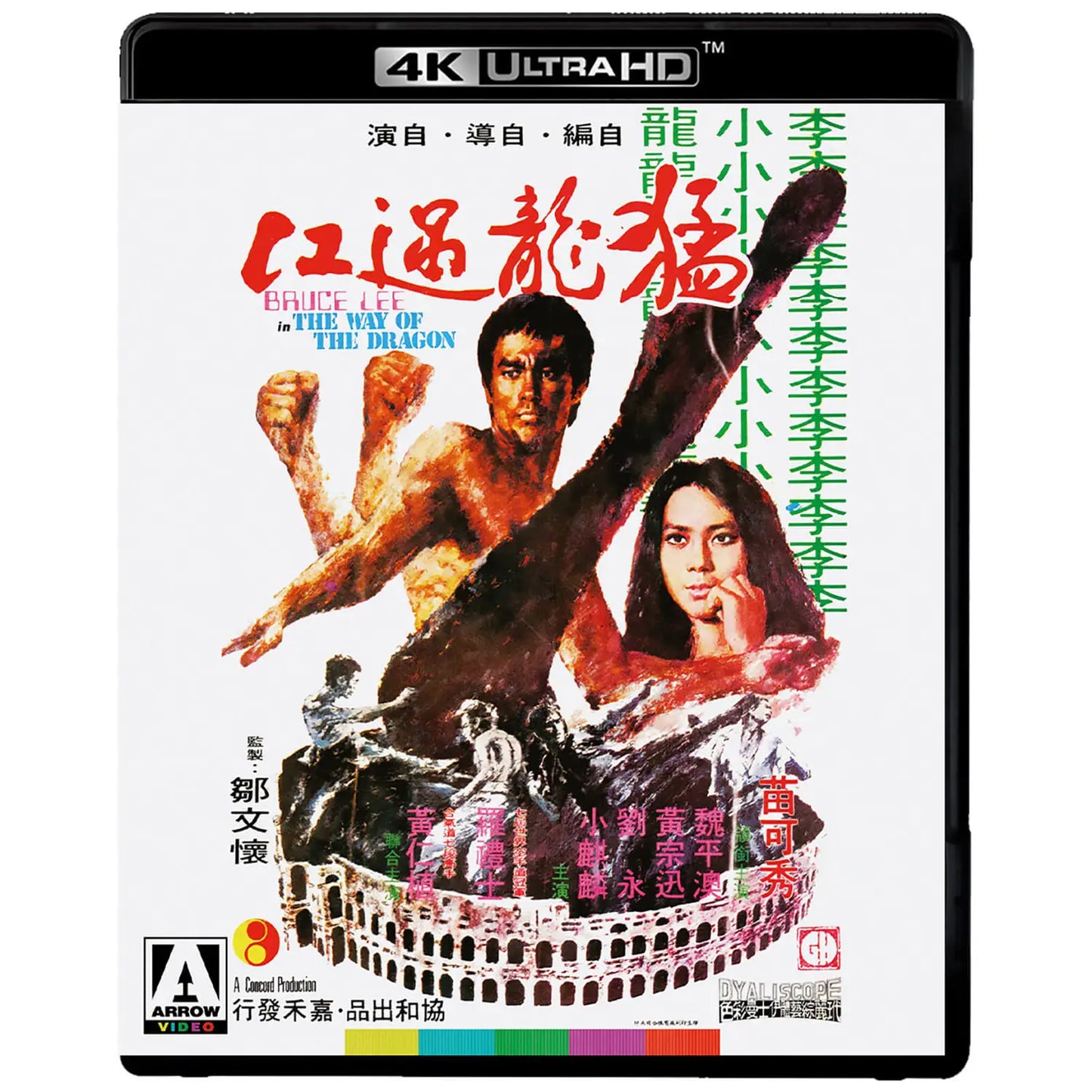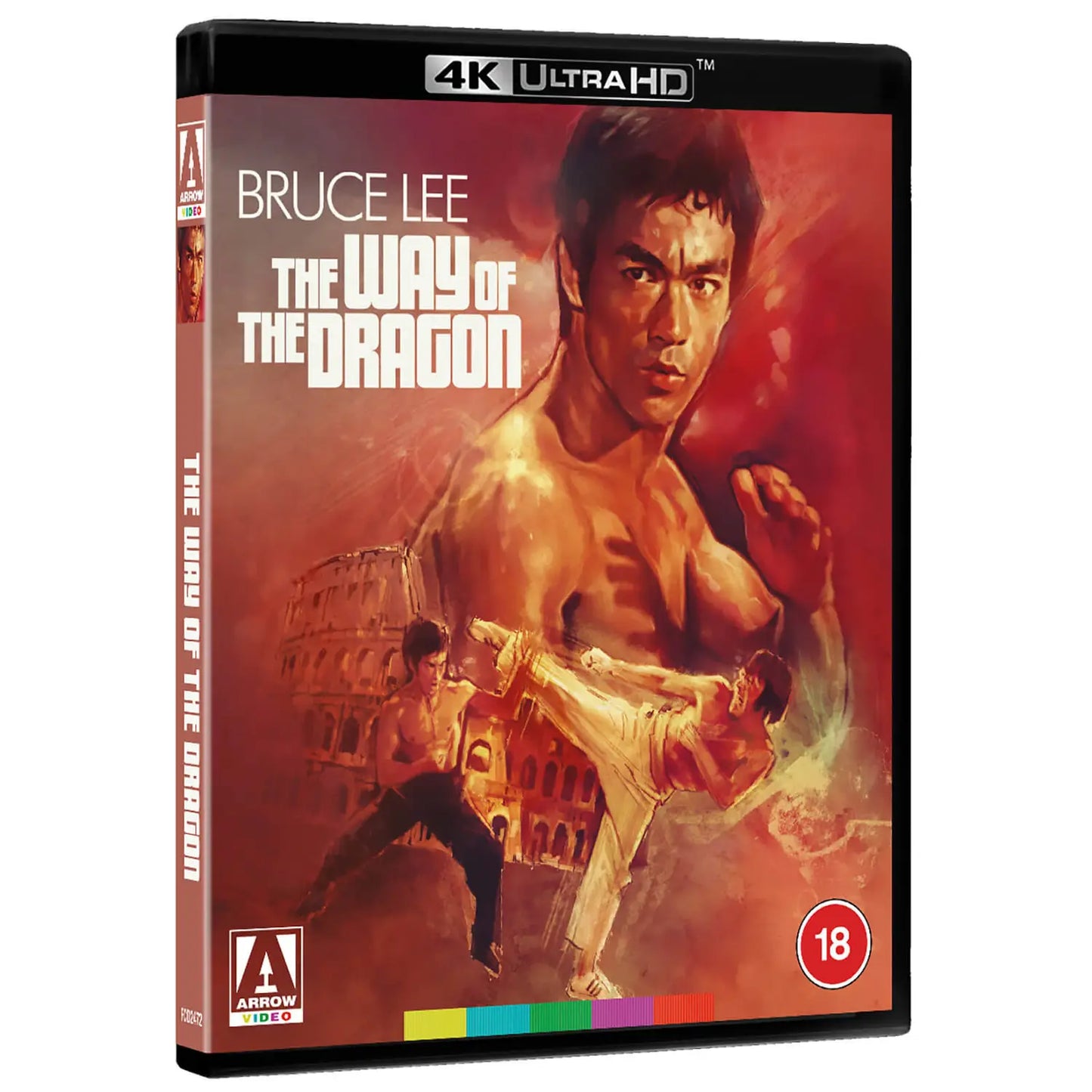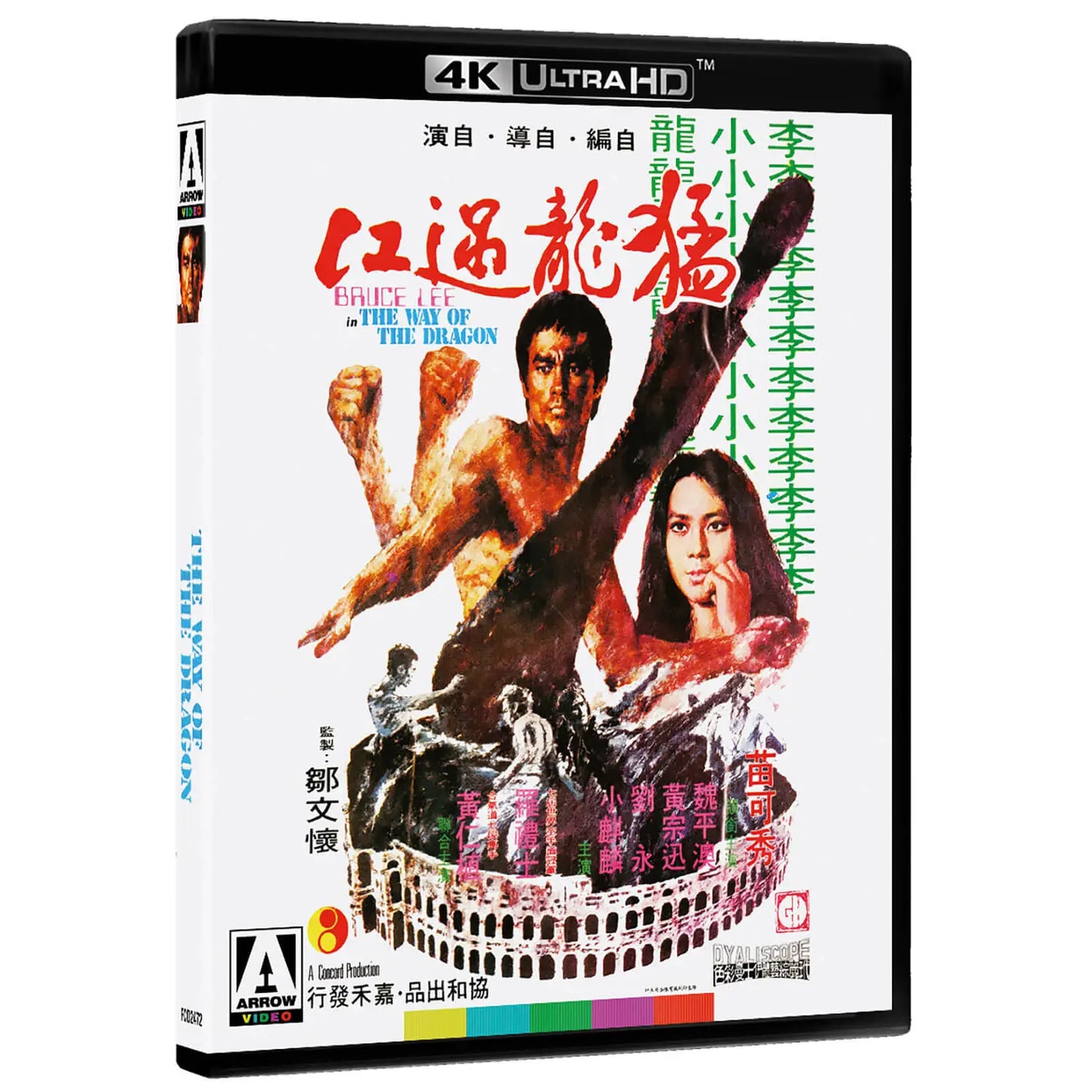 description
Having established himself as the biggest box office draw in Hong Kong, Bruce Lee leveraged his success into a new deal with Golden Harvest that would allow him to write and direct as well as star in his own projects. He only got to complete one film under this deal before his untimely death, but it's arguably his most personal and exciting: The Way of the Dragon.

Tang Lung (Lee) is a naïve country boy from Hong Kong who is shipped off to sunny Rome in order to assist a family friend whose Chinese restaurant is under threat from a local gangster. Training the waiters in self-defence while taking on Italian thugs single-handedly, the gangster decides to retaliate by flying in some of the best fighters from America (including Colt, played by Chuck Norris) and Japan to take Tang down. Soon the columns of the Colosseum will rumble with the sound of Tang Lung's fury!
Lee's only completed directorial effort is unlike any kung fu film that came before it, mixing thrilling action, stunning international location filming and charming humour in a way that would prove heavily influential on other Hong Kong filmmakers in the years since. It is accompanied by The Final Game of Death, a brand new 223-minute video essay taking you inside the making of Lee's second, and tragically unfinished, film as writer-director.
Product Features
LIMITED EDITION 4K ULTRA HD BLU-RAY CONTENTS
Illustrated collector's booklet featuring writing on the film by Walter Chaw
Reversible sleeve featuring original and newly commissioned artwork by Tony Stella
DISC 1: THE WAY OF THE DRAGON (4K ULTRA HD BLU-RAY)
4K (2160p) UHD Blu-ray presentations in Dolby Vision (HDR10 compatible), restored by Arrow Films from original film elements, of the Hong Kong Theatrical Cut and the Japanese Cut via seamless branching
Original newly restored lossless Mandarin, English and Cantonese mono audio on the Hong Kong Theatrical Cut
Alternate lossless English mono audio on the Japanese Cut
Optional English subtitles
English subtitles for the deaf and hard-of-hearing on both English audio options
Two feature commentaries, one by Frank Djeng & Michael Worth and one by Brandon Bentley
The Way of the Camera, a documentary looking at Lee's filmmaking and fighting method in his directorial debut, featuring interviews with Golden Harvest producer Andre Morgan, martial arts experts Michael Worth, Jon Kreng, Andy Cheng, Frank Djeng, David Yeung, film historian Courtney Joyner and actors Piet (Peter) Schweer, Jon Benn and John Saxon
Meet the Italian Beauty, a newly filmed interview with star Malisa Longo
The Scottish Soldier Meets the Dragon, a newly filmed interview with on-set observer John Young
Newly recorded select scene commentary by 'thug' actor Piet Schweer
Archive interviews with co-stars Jon Benn, Bob Wall and Hwang In-shik and production managers Chaplin Chang and Louis Sit
Trailer gallery, including a Bruceploitation trailer reel
Image gallery
DISC 2: THE FINAL GAME OF DEATH (BLU-RAY)
The Final Game of Death, a brand new 223-minute video essay by Arrow Films that incorporates a new 2K restoration of all two hours of Lee's original dailies from a recently-discovered interpositive
English subtitles for the deaf and hard-of-hearing
Game of Death: Revisited, an earlier attempt to reconstruct Lee's original vision from 2001
Super 8 footage from 1974 of Dan Inosanto demonstrating the nunchaku
Brief archival interview with Kareem Abdul-Jabbar from 1976
Image gallery
This is a UK Import. The 4K UHD disc is region free. The Blu-ray is region B and will require a multi-regional player.