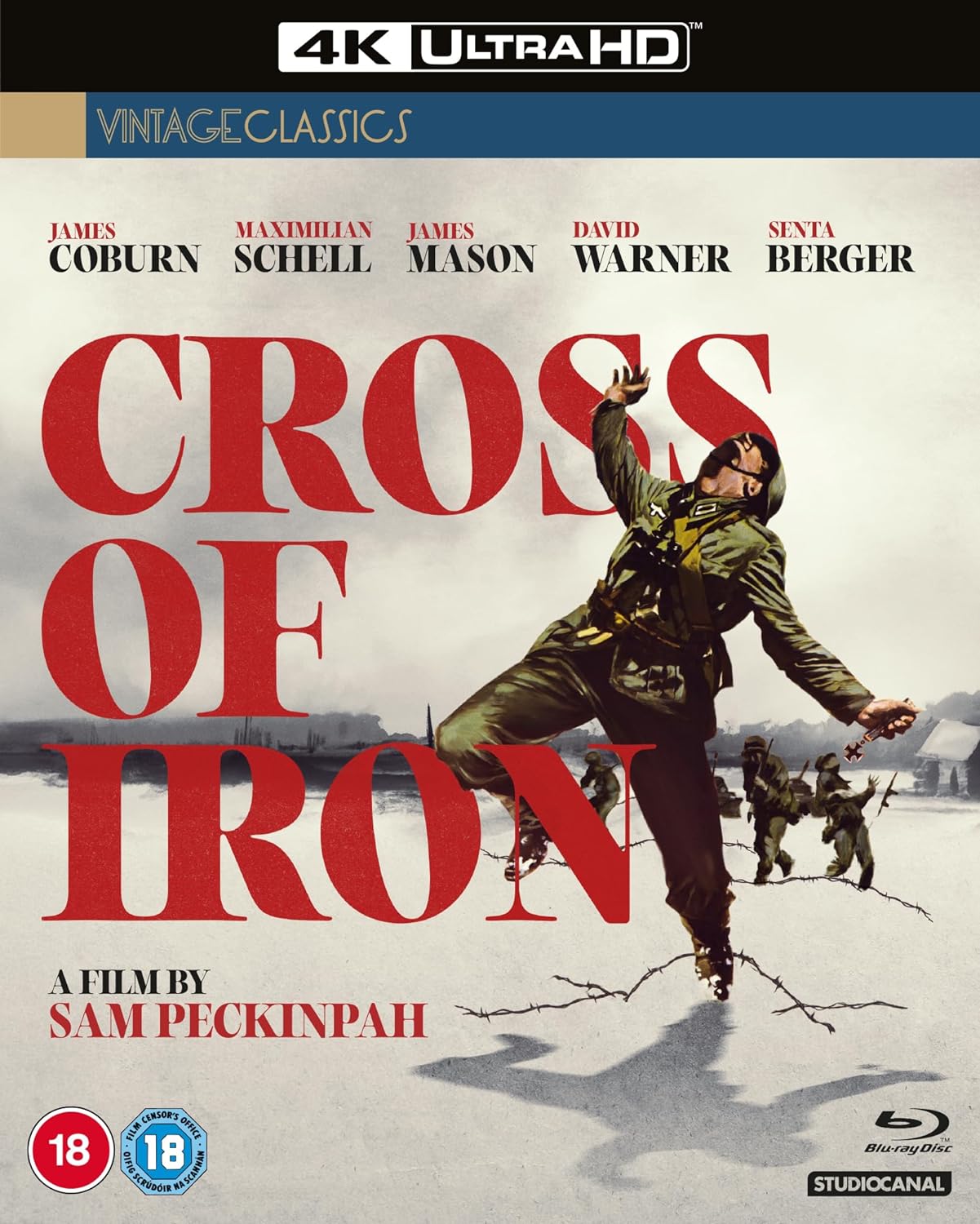 description
Based on the novel by Will Heinrich, Sam Peckinpah's only war film is an intense and uncompromising affair that brilliantly reflects both the futility of conflict and the director's fascination with individuals confronted by events beyond their control.


A World War II tale told from the German perspective, Cross Of Iron follows a platoon of German soldiers in Russia when the German Wehrmacht forces had been decimated and the Germans were retreating along the Russian front. Rolf Steiner (James Coburn) is a German corporal and recipient of the Iron Cross who has grown disenchanted with Hitler's war machine. When Captain Stransky (Maximilian Schell) assumes charge, the pair are thrown into immediate conflict, the autocratic but ultimately cowardly Stransky coveting the loyalty and honour Steiner commands.

Evocatively shot by John Coquillon (Billy the Kid) in sombre tones to emphasize the horrors of combat, the superlative lead performances are matched by David Warner and James Mason as war-weary senior officers. Viewed as one of Peckinpah's most powerful works, it's an unflinching vision of the Second World War.
Features

UHD & Blu-Ray Disc 1
• Audio Commentary by filmmaker and film historian Mike Siegel
• NEW Promoting STEINER
• NEW STEINER on the set
• NEW Filming STEINER
• NEW Filming STEINER pt 2
• NEW STEINER in color

Blu-Ray Disc 2
• On Location: Sam Peckinpah
• On Location: James Coburn
• On Location: Maximillian Schell
• On Location: James Mason
• On Location: David Warner
• Passion and Poetry: Sam Peckinpah's War
• Kruger Kisses Kern
• Vadim & Sam: Father & Son
• Cutting Room Floor
• Steiner in Japan: Ads filmed in 1977
• Mike's Home Movies: Steiner & Kiesel Meet Again
• US/UK Trailer
• German Trailer
• US TV Spot
This is a UK Import. The 4K UHD disc is region free. The Blu-ray is region B and will require a multi-regional player.