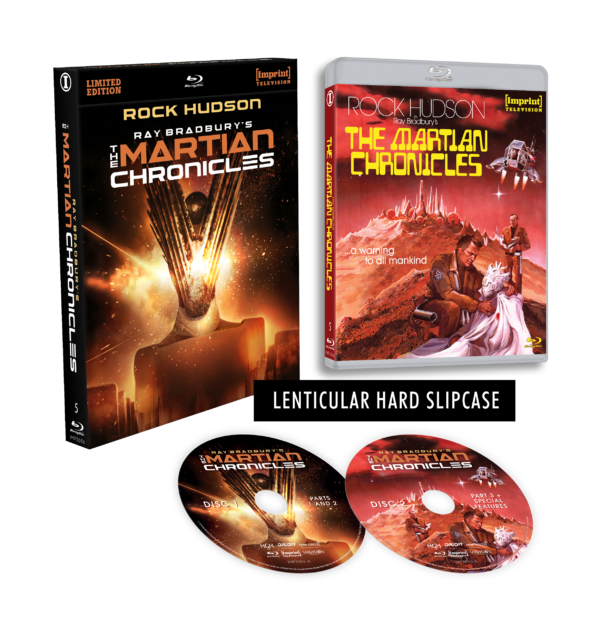 description
MAKING CONTACT WAS THE BEGINNING OF THE END…

Expand your Imprint Television collection with all 3 feature-length episodes of this captivating Sci-Fi series from the director of Around the World in 80 Days and Logan's Run, Michael Anderson.
Based on beloved author Ray Bradbury's iconic book of the same name, The Martian Chronicles stars Rock Hudson, joined by a star-studded cast including Darren McGavin, Bernadette Peters, Roddy McDowall, Fritz Weaver, Barry Morse, and Maria Schell.
Earth is on the verge of extinction. To survive, mankind must find another place to live. When three expeditions to Mars, headed by Col. John Wilder, find suitable conditions for relocations, humans pour in by the shipload, bringing the old evils of Earth with them. As Wilder begins to heed the lessons of the dying Martian civilization, can he save humanity from repeating its own doom?
On Blu-ray for the first time in Australia, this Limited Edition 2-Disc set is housed in a premium 3D Lenticular Hardcover Slipcase. 1500 copies only.
Special Features and Technical Specs:
1080p High-definition presentation on Blu-ray from a 2K scan

NEW

 Audio Commentary by screenwriter and film historian Gary Gerani on all three parts

NEW

 Interview with special effects & make up artist Colin Arthur

NEW

 Interview with special effects sculptor Brian Muir

NEW

 Interview with composer Richard Harvey

Ray Bradbury – An American Icon

 – Feature documentary profile of science fiction novelist and playwright Ray Bradbury. Narrated by Rod Steiger.

Aspect Ratio 1.33:1

Audio 

English 

LPCM 2.0 Mono

Optional English HOH Subtitles
This is a region free Australian release.