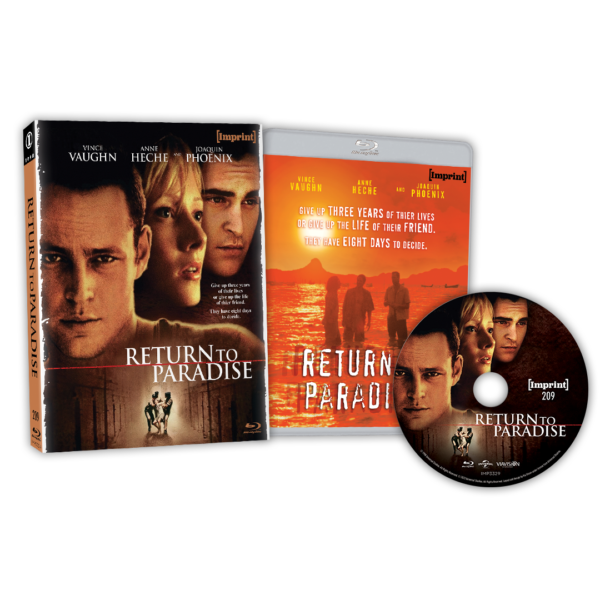 description
GIVE UP THREE YEARS OF THEIR LIVES OR GIVE UP THE LIFE OF THEIR FRIEND. THEY HAVE EIGHT DAYS TO DECIDE.
In this tense, twisted thriller of passion and betrayal, two men face the decision of a lifetime. They had been three buddies, living the life in Malaysia, a life of drugs, sex and freedom. Sheriff and Tony return to America, but Lewis decided to stay on. Two years later, a lawyer arrives in New York. Lewis is rotting in a prison cell – sentenced to die because of them. The only way he can be saved is if Sheriff and Tony return to serve three years in a living hell.
One woman must do whatever it takes to persuade and she only has five days to do it. But as the day of execution draws closer, no one can predict what fate has in store for those who stay and those who leave and Return to Paradise.
Based on the French film Force Majeure, Return to Paradise was overlooked at the time of release despite critical acclaim and features solid early performances from Joaquin Phoenix, Vince Vaughn & Anne Heche.
Starring Vince Vaughn, Anne Heche, Joaquin Phoenix, David Conrad, and Vera Farmiga.
Special Features and Technical Specs:
1080p High-definition presentation on Blu-ray from a 4K scan of the original negative
NEW

 

Force Majeure: Directing Return to Paradise

 

– interview with director Joseph Ruben
NEW

 

A Godless Place: Scoring Return to Paradise

 

– interview with composer Mark Mancina
Archival interviews with actors Vince Vaughn, Anne Heche and Joaquin Phoenix
Theatrical Trailer
Aspect Ratio 2.35:1
Audio English DTS-HD 5.1 Surround + LPCM 2.0 Stereo
Optional English HOH subtitles
Limited Edition slipcase on the first 1500 copies with unique artwork
This is a region free Australian Import